5 Steps to Create Facebook Landing Pages
Learn how easy it is to create Facebook Landing Pages! This E-Book would help you:
Create & Publish Facebook Landing Pages
Start capturing leads from your Facebook page.
Upload Custom Image for the Tab
Customize the tab image to create an appealing CTA on your Facebook timeline.
About the Author
Meenu heads the content marketing team at LeadSquared. She is an avid reader, excellent writer and has deep knowledge on subjects related to digital marketing.
Meenu Joshi
​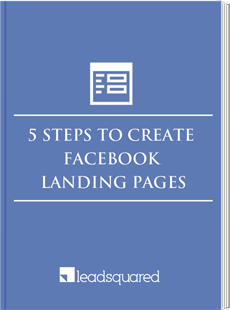 Download your Free E-Book
Install a Facebook IFrame Tab
Understand the options available to customize Facebook tabs.
Start collecting leads from your website. Download the free E-Book now!